One of the things I love the most about going back to Richmond for visits has been the pleasure of watching it evolve. I would say it has become an even more progressive, food-loving, family-centric city over the last ten years or so.
Whenever we are planning a visit, John and I try to include a few new stops at restaurants that offer dairy-free options, which has been surprisingly easy as the city and surrounding area have a lot of vegan and allergy-friendly businesses.
Unfortunately, while central Pennsylvania has a lot going for it, it does NOT have a lot to offer in the way of eating out with dietary restrictions. We have been faced with plenty of rejection here when we've requested ingredient info and it is rare to find menus marked with V, DF, Veg, or even G, although gluten awareness seems to be outpacing the other Big 8 common allergens. Also, if I'm being honest, a lot of the options that are available for the dairy-free/vegan set in the area…have a ways to go in the taste department (certainly not all of them, though). We hope to see this change in the years to come, but in the meantime we pay extra-close attention, and go out of our way to patronize, vegan-friendly locations when we are out-of-town.
So when we were in Richmond a few weeks ago, here were some of the highlights: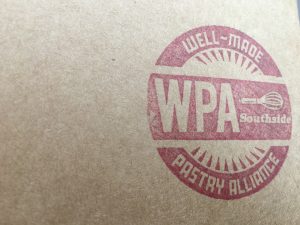 WPA Bakery has two locations, but we opted for the Church Hill locale. We made it there *just* before they closed. They are not exclusively vegan but every Sunday they offer vegan donut varieties.
On this particular day, the base for all five of these donuts were the same, but each had a different topping: chocolate, cinnamon/sugar, caramel (my fave), coconut, and powdered sugar.
They were more cake-y than some vegan donuts I've had, and even though I tend to prefer the fried, yeast-y kind, these were pretty good. The caramel topping was exceptional!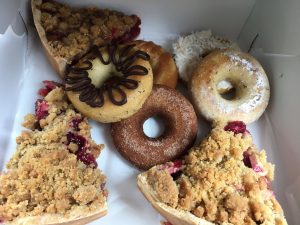 All of their fruit pies are vegan and we were lucky that even though we arrived late that day, there were a couple of options still available. We chose raspberry-apple and a mixed berry. The great thing I have found about a lot of pies, even the ones I make at home, is you can make a delightful, flaky crust without dairy, and these slices with crumble on top were tart, sweet, and fantastic.
Overall we  really enjoyed WPA. The staff was incredibly helpful and friendly and I love supporting the local guy when we can. We will definitely be back in the future.
Because we do a lot of cooking and experimenting with food at home, we have been able to replicate a lot of traditionally dairy-full dishes to scratch that itch when we need to. Pastas, mac and "cheese," pizza, if it's savory, we tend to have it covered.
Unfortunately, my dairy-free baking is hit-or-miss, and donuts have been my personal white whale. I've never been able to make a good donut when ALL ingredients were still on the table, so take a few out of the running and I end up with dense, greasy little messes. It is sad.
One of the only things I ever miss about having dairy in my life are donuts. Yeasty, light donuts with fresh glaze are some of the best things on the planet as far as I'm concerned. Enter: Sugar Shack.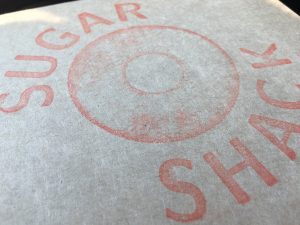 We have been to Sugar Shack on previous trips because they have always put themselves out there as vegan-friendly and have had a vegan option for quite a while. However, previously it was an alternative to their "regular" donuts and, if I remember correctly, they were more of a cake-style. Don't get me wrong, they were amazing, but like I have said before, I have been hunting for a good vegan yeast donut for a while.
According to a recent article in Style Weekly, nearly all of their donuts are vegan now and GM/dough-maker Mike Goins spent two years perfecting this vegan yeast donut. I cannot stress enough how amazing they are. And not amazing-for-a-vegan-donut amazing but truly, empirically delicious. I would bet next to no one could tell the difference between these donuts and donuts with eggs and dairy. They are simply that good.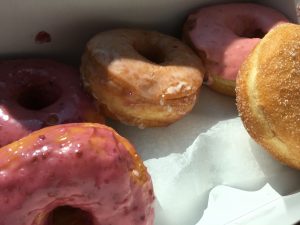 We went to the flagship Lombardy location and these bad boys didn't even make it out of the parking lot.
There were six in this box. But they were freshly glazed soooo…let's just say I showed great restraint by stopping to take any photos at all.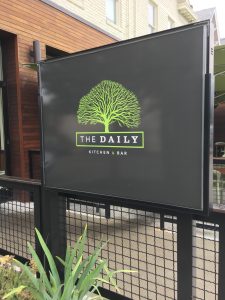 I'll be honest. When John first proposed this restaurant to me, I thought it looked a tad too fancy for us to roll up with Oliver. Even though he can be an adventurous eater, at 21 months, he is in full-on moody toddler mode most of the time. Unpredictable is an understatement. But we wanted to do some shopping in Carytown anyway, so we agreed to do a little fly-by and if the vibe wasn't child-friendly, we had some back-up options in the area.
There are so many great things about The Daily, but the big one is they list their entire menu on their website and denote paleo, vegan, and even if it has a vegan option. With a focus on sustainable, local foods (they have a list on their website of where most of their products come from!), it is a really refreshing place with LOTS of vegan options for us and an easy vibe.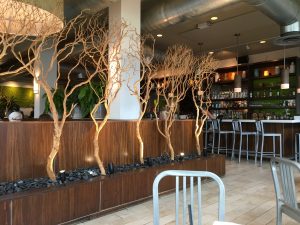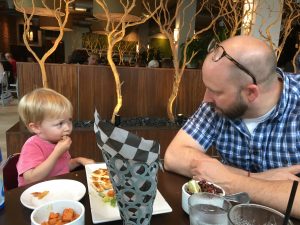 Our waiter was very comfortable with our questions and for those he could not answer, he did not seem bothered at all to go back and ask the kitchen for clarification. We were in before their lunch rush so we felt comfortable taking our time and asking enough questions to feel confident in our meal choices.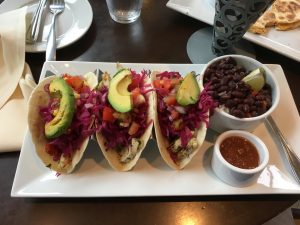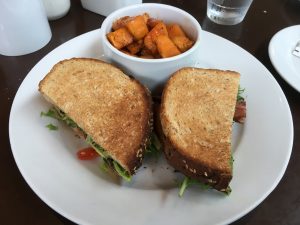 I opted for a BLT with avocado and a side of maple sweet potatoes. The sweet potatoes were probably my absolute favorite thing about this meal. They were sweet and perfectly cooked with a bit of a kick from the pepper. John had chicken tacos with a side of beans and rice. And our little O had a chicken and vegan cheeze quesadilla with sea salt french fries.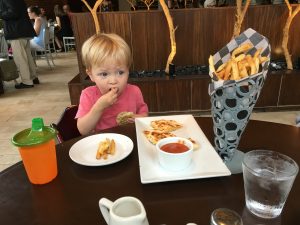 Overall it was a really hearty meal and we felt confident we were ordering food that fits well with O's diet. Best of all, Oliver definitely seemed to enjoy his meal!
**I feel like it is important to reiterate here that we do not adhere to a vegan diet. I have a lot of respect for those who do, but for now we are only dairy free. Since vegan products by definition do not have dairy in them, we often use that as a barometer in finding eating out options.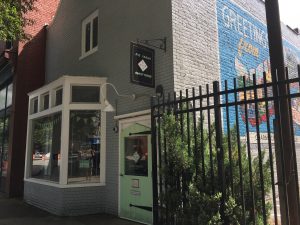 Oh, Charm School! Where have you been all my life? This delightful local ice cream shop is just so perfect to me. From its mint green doors and accents to the minimalist decor to its vegan ice cream options. There are no words to describe how much I love Charm School Social Club. (I mean, can we talk about their Instagram…)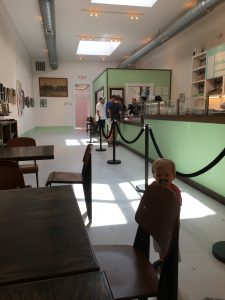 Baskin Robbins, it ain't, and it is all the better for it. When we were there, they had about a dozen dairy ice cream flavors available, and another four or so vegan options. We chose the vegan sundae, which consists of two scoops, Magic Shell, vegan marshmallow fluff, nuts, and a cherry. We also had the option of vegan whipped "cream" but we did not see it in time so we did not get any #regrets.
I believe the four vegan flavors there that week were: vanilla, Mexican chocolate, peanut butter fudge, and cereal milk (Cinnamon Toast Crunch). We chose a scoop each of the peanut butter and cereal milk. They torch the fluff slightly for a toasted marshmallow effect. A subtle little flavor detail that really adds something special to this sundae.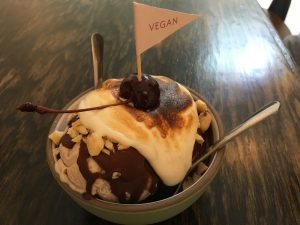 We miss our friends and family in the Richmond area daily, and now we have some memorable food options to add to our list of things we miss while we are away. Until next time, RVA!