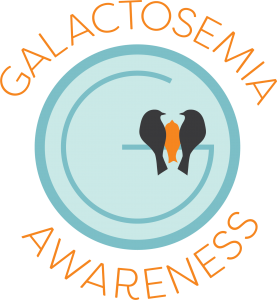 Can we just take a minute to talk about how amazing my friend Shauna is for creating some amazing new graphics for us promoting galactosemia awareness? I mean, have you ever seen anything so beautiful in all your life?
Shauna is what I like to call a wonder woman: mom, designer, wife, runner, GFWC clubwoman, volunteer, and all around great gal. I emailed her a few weeks back asking if she could somehow get me started on designing a little logo to use on this website and also to place on a shirt to wear during the Philadelphia Half Marathon next weekend. I had some simple ideas for a graphic in mind and was hopeful she could help me bring them to fruition. Shauna not only agreed to help but also took my simple ideas and created some designs that are more beautiful than anything I could have ever imagined!
My original idea for a logo/graphic included some simple, yet meaningful, elements: the letter O, the letter G, and three birds. The letters are probably obvious choices. Oliver and galactosemia, are sort of no-brainers. But the three birds have a little personal meaning.
When Oliver was in the hospital, I spent hours holding him and rocking him, telling him stories and singing little songs. Until then, I did not realize just how few nursery rhymes and children's songs I actually know. Before he was born, I think I just assumed I would be able to tap into some sort of magical mommy gene and would be able to conjure the words to every lullaby on the planet any time I needed to. I was wrong. Try as I might, I seemed to only know one verse of very few baby songs. Twinkle, Twinkle Little Star, Rock-a-Bye-Baby, Wheels on the Bus. There are only so many times I could recycle them before feeling like I might actually lose my mind.
But Ollie needed comfort and I needed him to know I was there and that he would be okay. I told him stories: how his daddy and I met, how we decorated his room, about all the people who couldn't wait to meet him. But when the stories started to wear thin, I sang to fill in the gaps. And even though I might not know many lullabies, I do know the lyrics to far too many songs on the radio. Britney Spears to Method Man. Janet Jackson to Led Zeppelin. Pink to Pink Floyd.
Let's just say, I have a lot of random songs rattling around in my head and when I went to tap into them to offer comfort to our baby boy, one song seemed to pop up more often than all the others: Three Little Birds by Bob Marley.
Don't worry about a thing, 'cause every little thing gonna be alright…
It's a song that I used to find uplifting, full of energy and optimism. And I still do, just in a different way now. Now it reminds me how far little Ollie has come and just how lucky we are to have this happy little person in our lives. But I'd be lying if I said I don't cry nearly every time I hear it now: sad tears remembering how helpless and scared we felt back then and happy tears for how undeniably grateful I am.
But I digress.
So a big thank you goes out to Shauna for sharing her amazing talents with us! I can never fully express just how thankful we are.